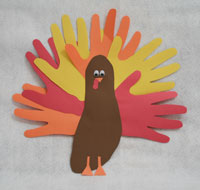 Back in New York, my grandmother on my mom's side has hosted Thanksgiving for the past several years. She's always made sure to be careful about cross-contamination and she typically tries to make me at least a few gluten-free items. Last year, I couldn't get back to New York from Chicago because I was busy with graduate school and I'd just gone home a couple of weeks prior for bk's birthday. Fortunately, a bunch of fellow grad students were in the same boat and one offered to host a "grad school refugee Thanksgiving dinner." We ended up with vegan, gluten-free and "regular" versions of many dishes, including pie, stuffing and gravy.
This year I'm a little bummed that it will just be myself and bk for Thanksgiving California-style, so I decided we should volunteer somewhere. The dinner I've signed us up for is pretty early in the day though, so we will probably have our own dinner of some sort later on. We both have to work the next day so it won't be too complicated I'm sure – okay, who I am kidding? BK doesn't know how to not cook complicatedly. I was rallying for a turkey out of tradition but I think I at least convinced him we should go for duck rather than chicken.
Side note: One year my ex and I held "Friendsgiving" in which we made duck confit with pumpkin risotto and roasted veggies. It was awesome. Also, I made everyone share something mortifying from their teenage years. I am a great hostess, clearly. In my defense, I bet my show and tell was one of the most mortifying. I'm a glutton for self-mortification.
All that aside, Thanksgiving can be a very tricky holiday for us gluten-free folks to deal with but fortunately I've acquired a good collection of bookmarked gluten-free recipes. My first year eating GF on Turkey Day was the worst but it's gotten so much easier now. Some tips after the jump:
Have a great Thanksgiving everyone! Don't forget to be thankful - for your food, for your health, and all that good stuff. I know I am – I live in a beautiful place, I have a great partner in my life, I've got a great pooch and I'm gainfully employed in my field. Everything else is gravy:)